---
By: Jessica Strohecker, CVBL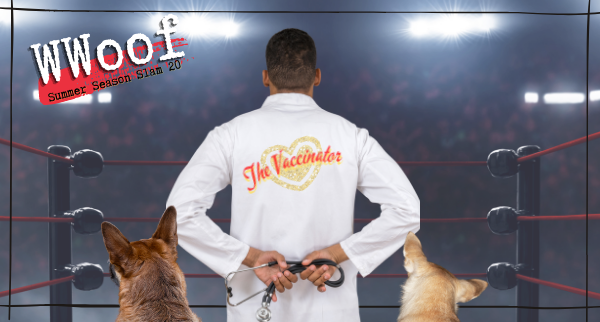 There is a quiet that sets in, right before he walks into the event. A nervousness from the audience and a hush of anticipation wondering what is about to take place. As the door opens an explosion of excitement abounds. Wearing his uniform, it's easy to identify who the man is. Almost iconic, really. He smiles as he walks in, looking down at the small fan who is jumping up and down trying to get attention from his new hero.
Funny, how a typical Tuesday new puppy appointment sounds just like a pro-wrestler entrance. Paging, Dr. Terry Bollea, paging Dr. Bollea.
I loved watching wrestling when I was a kid. Specifically, Rowdy Roddy Piper, Andre the Giant, Jake the Snake Roberts and Hulk Hogan. If you were an 80's kid, reading those names probably brought back a few memories. Imagery of bright costumes, toys and maybe even a pro wrestler jumping off the turnbuckle, flash in your mind. It is those memories of pop culture powerhouses that inspired so much of my marketing career.
Now you may be wondering, what does Hulk Hogan have to do with veterinarians? Really Hulk Hogan?
It's all about branding, brother.
Now, this is not going to be a post, where I feel veterinarians need to give themselves a nickname, wear a flashy costume or have a crazy gimmick. No, it is about creating a brand that stands the test of time. (However, The Vaccinator, would be an awesome nickname for a wrestling veterinarian.)
Creating a brand is not something practice owners or veterinary associates really think about when they go into practice. Many veterinarians went into veterinary medicine for the love of pets, not to become well-known public figures. The veterinarians I know are pretty camera shy and never really like being the center of attention unless they are in the safety of a closed exam room or directly in front of a client. In a day and age where social reputation can make or break you as a veterinary professional, branding is one of the most important components to your success.
So, vets, it's time to start thinking like Hulk Hogan.
There was a flood of wrestlers in the 1980s, all begging to get to the main stage. If you wanted to make it, you had to stand out. One of the best, Hulk Hogan, really understood branding. A marketing genius really. Especially when it came to his colors, yellow and red. The majority of wrestling fans in the 1980's were young children and pre-teens. He needed to choose something that felt familiar to his target audience.
McDonald's.
More specifically, Ronald McDonald. Yellow and red would evoke feelings of joy and could easily be identified by kids as "hero" colors. Because who didn't love McDonald's in the 1980s. Hogan's look and colors are legendary in wrestling. He chose to be the babyface, a hero in wrestling lingo. He wanted to instill hope, inspire and promote positivity for kids all over the world. Hulkamania can be summed up in one famous line from Hogan, "To all my little Hulkamaniacs, say your prayers, take your vitamins and you will never go wrong." Now I call that a pretty good mission statement.
Your professional brand is what your clients remember you by and creates your veterinarian legacy. It becomes the essence of what makes you individually different from your peers and competitors.
Branding is also a lot easier than it sounds, start by asking yourself some questions.
Why did you go into veterinary medicine?
What is your online and community reputation?
What makes you unique?
Who is your target audience? Your favorite clients or fans?
What role do you play in your client's life? Their pet's life?
Do you have a memorable logo, colors, building or even uniform?
Does your team support your professional values?
What will they say about you when you retire?/li>
As you define those answers, you find connecting to your audience and community is simple. With a clear and strong foundation in your brand, you can make business decisions faster because you know your purpose. As a veterinarian, you can stand out from the competition because you know what makes you unique. You can play your role easier for the clients, patients and team you serve. And more importantly, you can weather the ups and downs of your career, because you know the part you play to become a champion.
At Veterinary Growth Partners, we want to support you to become a world class hero, just like Dr. Terry Bollea (that's the Hulk's real name, he's not a veterinarian or doctor, but he does love animals). We created a special service available to our VGP members which assists in defining your unique brand identity and audits your online social presence. Our Marketing Analysis in partnership with Social Ordeals, works to ensure your brand is strong, accurate and helps you create long term marketing goals that will connect with your community for years and decades to come.
Veterinary Growth Partners has made branding and marketing easier, something I'm sure even the Hulk would be excited about. To learn more about our supportive practice management services and benefits of VGP membership go to www.vgpvet.com.